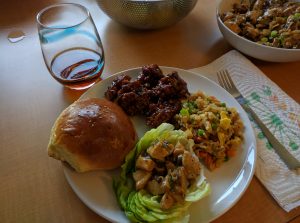 Here's the end result of the majority of our experiment, and served with a plum wine (went really well with the rest of the meal). I helped Shelly with the filling, and wrapping for the pork buns, and I made General Tso's Chicken. Everything turned out perfect, but I doubt we'll do General Tso's ever again, since it requires a bit of deep frying (not particularly healthy, and there's not really practical way to dispose of the used oil). 
Making the chicken was actually really fun, and the end result was way better than I was expecting. In fact, I'd say that this is way better tasting than what you'd order for Chinese Food take-out, and with a little tweaking would be nearly perfect. Looking at the overall recipe, I think this would be really easy to make glutton free. Here's a bit of the General Tso's in the progress:
We also had some mixed drinks the prior night when prepping the Pork Hum Bao. Cranberry Moscow Mules!